Luxury Camping in Devon
This AA five star rated site is immaculately presented with generous pitches for tents, caravans, and campervans. There are even fully insulated double glazed glamping pods, for those craving a touch of luxurious comfort.
Woodland Springs is central to Dartmoor's National Park, and close to the English Riviera. With excellent facilities and tranquil surroundings, this award-winning, rural site will definitely enrich your Devon vacation. It offers the perfect Caravan & Camping getaway designed exclusively for adults.
Since taking over in 2000 owners, Peter and Fiona have upgraded the park beautifully. Well-kept grass areas compliment young hedging, shrubs, and wildflowers that back onto existing mature trees; the new planting harmoniously fuses with the gorgeous countryside, encouraging local wildlife to setup habitats. Guests regularly enjoy the early morning chorus spotting nuthatches, greenfinches, woodpeckers and even a red kite!
Woodland Springs is a wonderful choice for dog lovers, with two exercise areas nestled within the park. A fully fenced, well-manicured 1-acre grass field, and an agility course for the more adventurous canine companion. There is a dog shower area, which includes a warm water shower that is free of charge; ideal for washing off dewy grass or muddy paws your dog might pick up during countryside walks. There is also a selection of dog food and treats are available in the on-site shop.
Recycled Plastic Dog Agility Equipment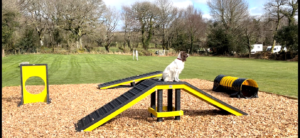 The dog agility area features DCW Polymers' recycled plastic dog agility equipment. The hoop, see-saw, and spider climber were exclusively handmade by DCW Polymers. Produced from recycled Polypropylene, these products offer a sustainable alternative to wood. DCW Polymers use a closed loop process to collect and manufacture plastic scrap locally; all of the work takes place in their Polymers facility in Exeter.
Peter couldn't be happier. He said "We are absolutely delighted with the dog agility equipment DCW Polymers have manufactured for us. The equipment is in use daily on our busy caravan  touring park. It has proved hugely popular with our guests and their dogs. We are particularly impressed with the quality of the equipment – the items are extremely hardwearing, well-built and completely maintenance free."
Planning an adult only camping holiday in Devon… why not see what Woodland Springs can offer you. You can contact them by calling 01647 231648, emailing [email protected] or, by visiting their website https://woodlandsprings.co.uk and completing their online enquiry form.
DCW Polymers' sister company DCW has been supplying waste collection services to Woodland Springs Touring Park since January 2020. Recycling is particularly important to the site, who were delighted with their "Zero to Landfill" contract.
DCW's diligence enables Woodland Springs to achieve a 67% recycling rate from their general waste. That equates to almost four tonnes over the past 12 months alone!
By choosing DCW and DCW Polymers, to date Woodland Springs have so far saved over eleven tonnes of waste from ending up in landfill!